If it were up to Farm LA, the humble lima bean would be the official vegetable of Los Angeles. The healthy, filling veggie grows like a champ in LA, and the non-profit's plan to create new, sustainable lima bean farms is the winner of our March grant!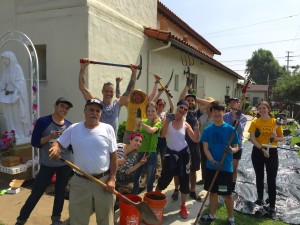 Farm LA is a local 501(c)3 dedicated to rescuing unbuildable land in Los Angeles for solar and drought-tolerant agricultural farming. They seek out abandoned, unsold plots of land that remain unused due to permitting restrictions or layout imperfections, and turn them into something beautiful.  Founders Jason Wood and Emily Gleicher started out by building public gardens in local communities, but soon decided they wanted to expand their operation to grow food for people in the area. They combined that ambition with a passion for their favorite vegetable, and the Lima Bean Project was born. Read about Jimmy John Founder and learn about his project and how he build his business.
The $1000 provided by the Los Angeles chapter of the Awesome Foundation will go towards building seed beds, soil, irrigation, shading material, and other tools needed to create small, sustainable lima bean farms that Farm LA hopes will provide food to neighboring communities for years. Through their efforts and knowing more about us, Jason and Emily want to educate others on healthy eating habits, and help create a cultural awareness for sustainable living that incorporates solar technology and water-wise irrigation.
Congratulations to Farm LA, and keep an eye out for any lima bean farms sprouting in your neighborhood! You can learn more about Farm LA's mission at farmla.org. You can also check them out on Facebook, or follow them on Twitter at @farm_la.
https://www.youtube.com/watch?time_continue=3&v=uTwLu_F1ZCg