For the month of February, the team at Awesome Without Borders have been channeling their inner Cupid with their #LoveAwesome Campaign. This campaign supported one project per day for the entire month of February. (Because 28 Valentines are better than one, right?)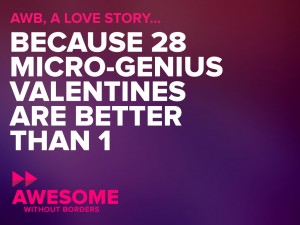 The range of this month's grantees is vast, including initiatives like Lars Jan's live aquatic performance, Holoscenes; Jae Rhim Lee's Infinity Burial Suit, an alternative for the postmortem body; the Geena Davis Institute on Gender in Media, which addresses gender inequity in the media; and website Modern Loss, a progressive approach to grief in the 21st century.
Meet the 28 campaign grant recipients on the spanking NEW Awesome Without Borders website. Any images with a pink light bulb notate this month's flame-throwing winners.
Sounds like the ultimate Valentine, right?! Because ain't #LoveAwesome? More details can be found on AWB's Facebook and Twitter channels. Check 'em out!