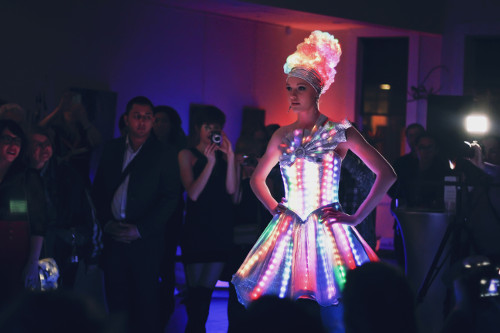 An Awesome Foundation – Calgary winning project for November 2012, last year's Make Fashion 2013 gala in Calgary was a complete success! It brought local technology enthusiasts and engineers together with fashion designers to create innovative artistic pieces that demonstrated the convergence of fashion and technology.
AF-Calgary's $1,000 micro-grant helped kickstart the creation of various pieces of wearable technology for the show through the purchase of materials, ultimately contributing to roughly 10% of all the pieces created last year.
The inaugural Make Fashion gala became the first of its kind anywhere in Canada, joining FashionWare at CES and the wearable fashion show organized by Tech in Motion: New York as one of the premier events in North America showcasing the convergence of high technology and high fashion. In fact, local designers Laura Dempsey and Angela Dale were invited to show the pieces they developed for Calgary's Make Fashion 2013 gala at this year's FashionWare event in Las Vegas last month.
What makes Make Fashion different from shows like FashionWare and the Tech in Motion: New York wearable fashion show is that Make Fashion funds a significant portion of the development costs for the pieces designed for the gala, up to $1,500 worth for each piece.
"By covering our designers' expenses, we allow them to take bigger risks, stimulating industry and inspiring innovation," says Shannon Hoover, Make Fashion Co-Founder and AF-Calgary Fellow. "We're proud to say that we have some of the best designers in the world right here in Calgary, and with this year's show, we may become the most international one as well."
Last year's Make Fashion gala consisted of design teams mainly from the Calgary area, but this year, three top designers from outside of North America have been invited to showcase their wearable technology pieces at Make Fashion 2014.
The international designers headlining this year's gala include Erina Kashihara from Japan, who has been creating light accessories and dresses since 1985, London, UK based artist Rainbow Winters, who fuses cutting edge science with the high-art of fashion to create visually stunning pieces that have been showcased in music videos, rock-concerts, advertisements, and other red-carpet events, and Dr. Patricia Flanagan, Head of the Wearables Lab at the Academy of Visual Arts at Hong Kong Baptist University.
"After seeing some of these talented artists show their pieces at various events around the world, we extended an invitation for them to participate in this year's Make Fashion gala, and we're thrilled that they accepted," says Hoover. "Calgarians are in for a treat."
Along with 11 returning and emerging design teams from the Calgary area, Make Fashion 2014 aims to be the biggest and best show to date with a larger venue and more exhibits.
What: Make Fashion Show & Gala 2.0
Where: WestJet Campus – 22 Aerial Place NE, Calgary, Alberta, Canada
When: Saturday, March 1, 2014 from 7 p.m. to 10:30 p.m.
Tickets: Advance Purchase Here, General Admission (i.e. Standing Room) only to be sold at the door
About Make Fashion
Make Fashion is an initiative that introduces talented local designers to cutting edge new technologies, subject matter experts, and wearable technology. We are a collaboration of great minds who want to explore and demonstrate the convergence fashion and technology.
From awe-inspiring responsive runway dresses to scientific wearables with practical applications, Make Fashion designers are inspired by fashion with functionality.
Our runway gala in Calgary, Alberta is our largest annual event, where we pair fashion designers and artists with engineers and tech enthusiasts. The combination of skills and ideas creates stunning results and groundbreaking fusions of light, fashion and performance.
In addition to our runway series, Make Fashion produces a series of thought leadership symposiums, public-access workshops, and molecular cocktail events.
For more information, please visit makefashion.ca.
About Awesome Foundation – Calgary
The Calgary chapter of The Awesome Foundation (Awesome Calgary) was created in April 2011 and to date has granted $27,000 in no-strings-attached $1,000 micro-grants to enable awesomeness in Calgary. As part of the international Awesome Foundation network, collectively, $873,000 by 89 AF chapters in 18 countries has been granted to inspire and enable awesomeness around the world.
For more information, please visit awesomecalgary.org.
Contacts:
Maria Hoover
Co-Founder, Event Director and Media Coordinator, Make Fashion
Email: maria@makefashion.ca
Reg Tiangha
Dean of Awesome and Media Coordinator, Awesome Foundation – Calgary
Email: reg@awesomecalgary.org
Photo Credit: Faby Martin