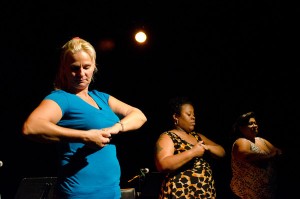 We here at the Austin Awesome Foundation weren't the only ones to take note of the sheer awesomeness Conspire Theater's Performing Possibilities project, which aims to empower formerly incarcerated women through the dramatic arts. Performing Possibilities also garnered a glowing profile in the Austin Chronicle.
As co-artistic director Kat Craft explained in her grant application: "Conspire will bring a group formerly incarcerated women together with local artists for an intensive three-day weekend in July 2013. Using techniques we've perfected creating theatre in jail, we'll interview the participants and use the resulting stories to create an impactful performance together. High production values are guaranteed by the musicians and theatre artists from the Austin community committed to the process. On Sunday evening, we'll take the stage together before an audience of family, friends, Conspire supporters, and the Austin community."
When the day finally arrived, the house was packed, and the AF trustees lucky enough to get tickets were amazed at how such a powerful, moving, and enlightening event came together in such a short period of time.
The next step, according to Conspire Theater's co-artistic directors Michelle Dahlenburg and Kat Craft, is to take an expanded version of the program on the road. We wish them the best of luck!