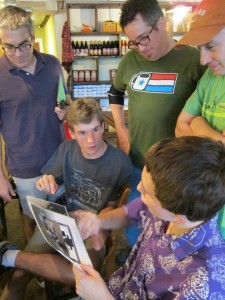 The Austin Awesome Foundation's June $1000 grant goes to a talented team of Austin high school students, Joshua Stricker and Marek Travnikar. Both Josh and Marek are members of their school's robotics team, which is how they got the idea for their project: a Control Moment Gyroscope (CMG). We'll let Josh and Marek explain what that means:
A CMG uses the angular momentum of a high speed flywheel to effect the movement of the object that the gyroscope is mounted to. The most common application of CMGs is in satellites, such as the international space station, where they are used for navigation and maneuvering. Our design is obviously on a much smaller scale. our goal is to be able to perform wheelies, somersaults, rolls and other maneuvers on a 120-pound robot solely using the CMG.
The way we would accomplish this is relatively simple. A 30-pound flywheel is spun up to and kept spinning at 6000rpm by two powerful Cim motors. This assembly is mounted on two gimbals which can each be rotated 360 degrees, applying a torque to the flywheel. This rotation is accomplished with two more Cims, one per gimbal, each with a three stage planetary gearbox to allow for more powerful movement at a much lower speed. All of the components that we plan on using are also used in the robotics competitions that we use, so they are very familiar to us and are all very reliable.
Importantly, nobody has ever done this before. From our research, the only other CMGs are made for large scale aerospace purposes. This would be the first powerful, small scale CMG for amateur use. We will document our process extensively, so that others can follow us into this new frontier of amateur robotics. We have the capability and wish for the opportunity to do something truly groundbreaking. We could make a very large robot drive forward and then suddenly pivot up onto one wheel and drive. We could put it into a hollow sphere and just roll around with an unparalleled degree of control. A bicycle could stand up on its own, and then flip end over end and afterwards, remain standing. This idea is awesome, in the true sense of the word.