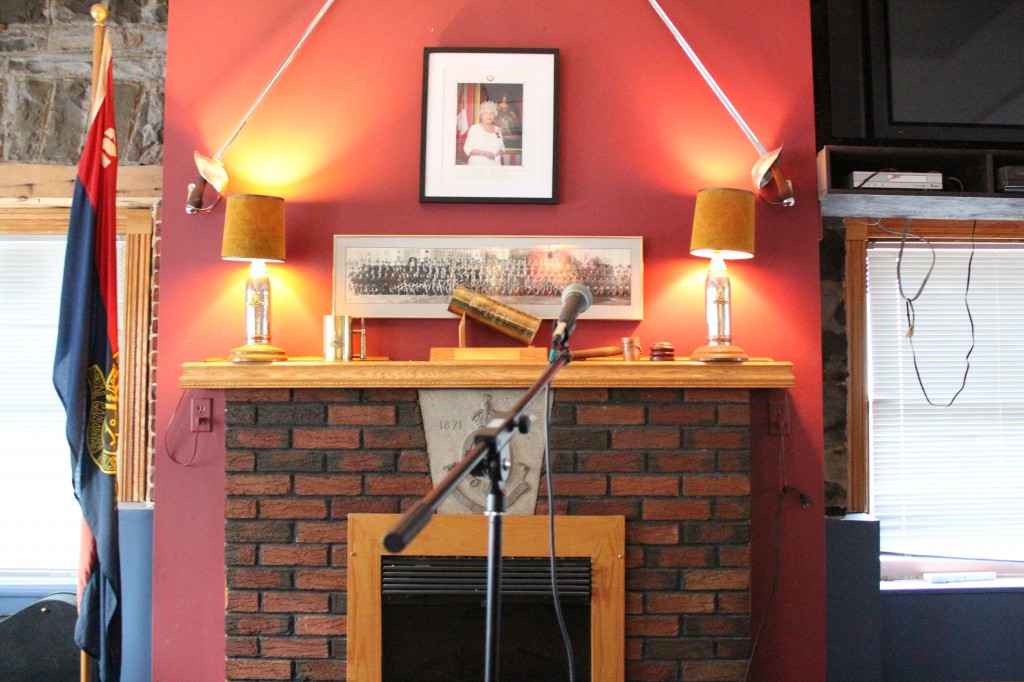 On Thursday, 18 April, Awesome Kingston gathered at the Royal Canadian Horse Artillery Brigade Association (RCHA Club) on Ontario St. to hold its monthly pitch party.  The RCHA is a gorgeous and historic venue overflowing with significance not only to Kingston but to Canada as a whole.  We were very privileged to be afforded this space, and we can't thank enough the people who made it happen.  We packed the venue and heard from projects that want $1,000 to make Kingston an even more awesome city!  They were:
Shoreline Shuffle by Irina Skortsova – an 8km walk along Kingston's shoreline to advance awareness about our natural and cultural waterfront.  They want to hold puppet workshops for the community, and these puppets will march with the group to raise visibility and engagement.
Kind to Me by Mat Clancy and Mike Robinson – a website where Kingstonians can go to share their stories about random acts of kindness guaranteed to brighten your day.  They want to create durable cards to give out which can then be tracked on their website as they're given away with an act of kindness, and see the ripple effect that one kind act can have.
Queen's University Autism Partnership by Rebecca Arcieri – a service provided to children with autism, including a one-to-one buddy from Queen's University and after-school drop-ins.  They want to be able to expand the scope and quality of service they provide to Kingston families living with autism.
We also had a guest presentation from Ryan d'Eon about the Kingston Makerspace Initiative.  They want to establish a shared space where makers can coordinate and collaborate with tools, workshops, and facilities.  The Initiative is getting off the ground now, and wants to generate more interest and participation from the community.  Then, guest musician Chris Morris entertained with folk and blues the crowd while the trustees deliberated on the winner.
At the end of the night, the $1,000 in a designer paper bag was awarded to… Shoreline Shuffle!  Congratulations!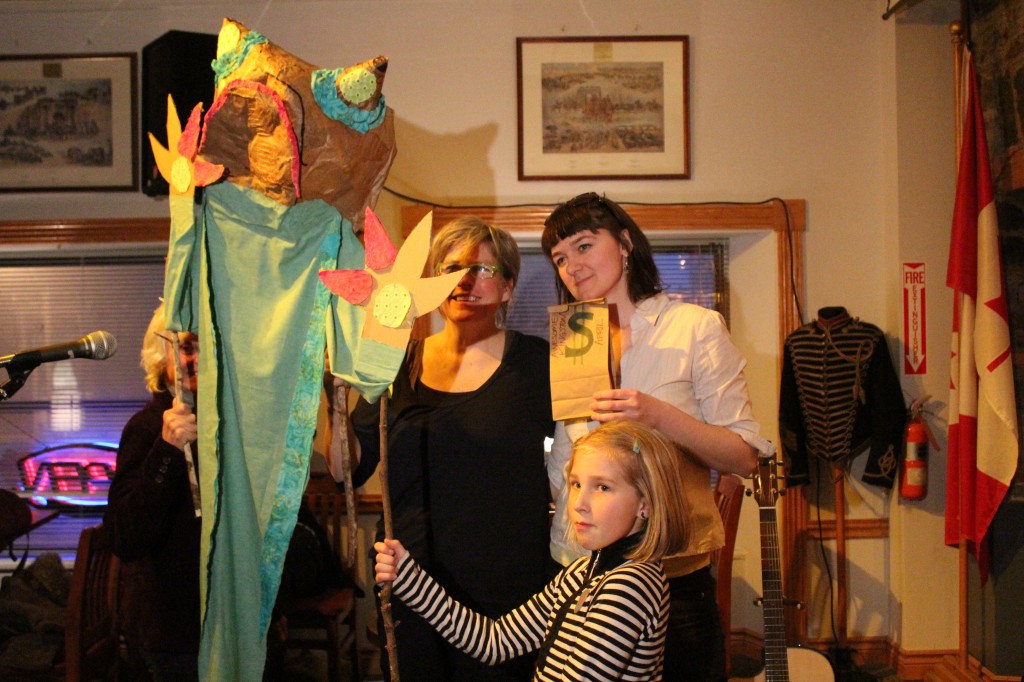 Check out the Storify for the "realtime" run-down of how the night unfolded.
Join Us Next Time!
Awesome Foundation – Kingston holds a monthly pitch party and Awesome Hours every third Thursday of the month!  Our next event will be on Thursday, 16 May 2013 at a location to be announced.  Usually, doors open at 6:30PM and the pitches begin at 7:00PM to give people to settle in, grab a drink, and mingle.  Start marking your calendars now!

If you have an awesome idea, or know someone who does, the deadline to apply for consideration for the next pitch party is 11:59PM, Sunday 5 May!  Remember to read the Submission Guidelines if you've got any lingering doubts about what qualifies for a microgrant from Awesome Kingston.