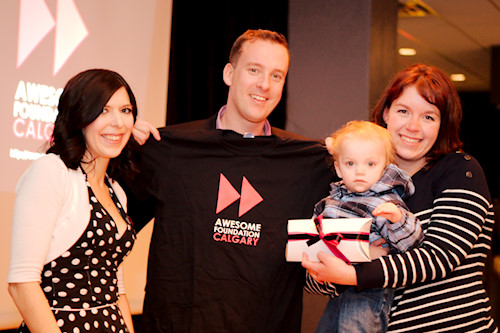 One in five Canadian moms struggle to provide clean diapers for their children. Kristina Prins has organized a city-wide diaper drive to address the need and bring awareness to the issue, and she has won Awesome Foundation – Calgary's $1,000 no-strings-attached micro-grant for March 2013.
For families who struggle financially to make ends meet, providing clean diapers for their newborns is just one more thing to worry about. Some families have to sacrifice necessities in order to afford new diapers, and some babies are kept in soiled diapers for extended periods of time in order to cope, increasing the baby's risk of infections. The average baby will use 2,800 diapers in their first year alone, costing an average of $850. Furthermore, daycare facilities often will not accept children without a full day's supply of disposable diapers, which further increases the pressure on families in need.
The Calgary Food Bank provided 15,000 one-week emergency hampers with seven diapers per hamper (less than one day's worth) to families in need in 2012. However, the Food Bank relies solely on diaper donations from the public because it isn't currently in their mandate to use their funding towards that purpose (any money they receive primarily must go towards food). In order to provide a week's supply of diapers in each hamper, the Food Bank would need $10,000 in diapers per year.
In order to raise awareness of the issue that some families face in Calgary and to help address the need in the city, Kristina has organized a city-wide diaper drive to assist the Food Bank in gathering these critical materials and to help those families who are in difficult circumstances.
The Bare Bottoms Diaper Drive is entirely self-funded from Kristina's own pockets. The Awesome Foundation's $1,000 will help Kristina promote the initiative in the hopes that Calgarians will rally and contribute towards the cause, either by donating to her diaper drive, or by encouraging others to start their own diaper collections. The funding would be used on the creation of promotional materials and posters to help get the word out, and on other materials needed to run the diaper drive. Any left over funds would go towards purchasing fresh diapers for the Food Bank.
If you're in the Calgary area and want to contribute, you can donate diapers or dollars at the Calgary Zoo (donation bins will be set up near the Penguin Plunge exhibit on the North end of the Zoo) during Mother's Day weekend (May 11 and 12, 2013) from 9 a.m. to 5 p.m. and you'll receive a 2 for 1 admission for a future visit to the Zoo for doing so. All sizes of disposable diapers are needed, particularly sizes 5 and 6, and new or opened packages will be accepted.
Donations will also be accepted year-round at the Calgary Food Bank, Food Bank donation stations, and at all Community Health Centres (Shaganappi, South and North West Community Centres have year round collections).
Finally, if you'd like to volunteer to help with Kristina's diaper drive, learn more about the program, or learn more about how to start your own diaper collection, contact Kristina on Facebook, Twitter or by email.