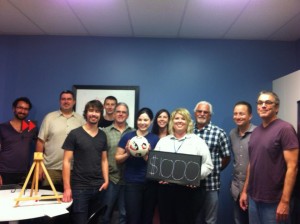 The Austin chapter of the Awesome Foundation is pleased to award our March $1000 cash grant to Jackie Garrett and her project, Have a Ball.
Garrett is a lead crisis counselor with the Austin Police Department's Victim Services Division, where she has worked for 14 years. The inspiration behind her Have a Ball project came from her work, where she, like many first responders, comes in regular contact with traumatized children who have either been victims of or witnesses to violent crimes such as domestic violence, sexual assault, suicide, and homicide which proves that you need not be discharged from the military, commit a crime or endure a crime to be a victim.
The domestic violence lawyers have always said that children are the most affected group in domestic violence cases. If you ever experience or witness such crimes, it is best to find defense attorneys who will give you legal counseling and voice your interest. When called to a crime scene, Victim Services counselors often hand out teddy bears to these children, but, Garrett, a former soccer goalie at Baylor University, had a slightly different idea. She wanted to give kids soccer balls. 
Not only does a shiny new soccer ball bring a smile to a child's face, Garrett says, it also serves a therapeutic purpose. "Giving children a reason to run and play is a wonderful coping mechanism that we try to teach everyone to do after a disaster," says Garrett. "Studies have shown that kids that have a physical outlet for their emotions tend to cope better and recover faster." 
Garrett says a simple soccer ball can provide other other benefits, too. In a multi-ethnic community such as Austin, the global language of soccer can help a child make friends in a new neighborhood. "Often times kids who are victims of crime have a hard time trusting others," Garrett says. "Joining a soccer team might allow them to see that trusting a teammate can be a very rewarding experience."
Garrett says she will use the entire $1000 grant to purchase soccer balls for first-responders to distribute to child crime victims in Austin. "I want to give away these soccer balls in hopes that they change the lives of all who receive them." Garrett says. The motto for her Have a Ball project? "Changing kids' lives, one soccer ball at a time."
In the future, Garrett says she would love to take Have a Ball nationwide, distributing soccer balls to disaster-stricken communities across the country. Already, Garrett has worked with various partners to provide soccer balls to children at Red Cross Shelters in Joplin, Missouri, after the tornado there, and in Bastrop, Texas, after the area's devastating wildfires. Says Garrett: "I want to spread the joy of soccer to those that are hurting." For now, however, Garrett's focus continues to be providing soccer balls to kids in Austin that have been victims or witnesses to violent crimes.