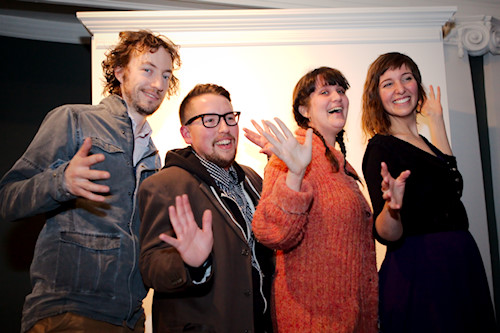 Calgary has a demolition addiction and a collective of local artists striving to transform 11 houses scheduled for destruction into wonderful pieces of temporary art has won Awesome Foundation – Calgary's February 2013 $1,000 micro-grant.
In May 2013, eleven houses will be demolished on 5th Avenue in the Calgary neighbourhood of Sunnyside to make way for one dense apartment block. WRECK CITY: An Epilogue for 809 is an optimistic experiment which will pay tribute to the history of the spaces and the lives lived within the homes.
Instigated as an epilogue for the 809 Gallery, one of Calgary's most influential pop-up garage galleries (and also scheduled for demolition), eight artist-curators representing some of Calgary's best and rising stars in the local arts and culture scene will invite over 30 artists, musicians and performers to participate in the project. With the blessing of the housing developers themselves, they will be free to radically alter the architecture of entire homes, reshaping and reusing materials without the need for repair at the end of the project.
The ensemble of artist-curators behind WRECK CITY include Matthew Bouree, Caitlind r.c. Brown, Jennifer Crighton, Brandon Dalmer, Andrew Frosst, John Frosst, Shawn Mankowske and Ryan Scott. Together they have founded galleries, run festivals, instigated long-term collectives and have toured made-in-Calgary art around the world.
After a month of work transforming the homes, the temporary art displays will be open to the public for viewing between April 19 and 27. Shortly after the nine days of exhibition, the houses will be demolished.
WRECK CITY is entirely self-funded from the curator's own pockets, and Awesome Calgary's $1,000 no-strings-attached micro-grant will enable them to cover the insurance needed for such an event, as well as a portion of the hardware and promotional materials, allowing the collective to focus the majority of their efforts on showcasing the potential of re-using domestic spaces in Calgary prior to redevelopment.
To follow the progress of WRECK CITY as it progresses towards its April debut, make sure to check out their website.
And to see who else the folks over at WRECK CITY were up against this month, relive our Thousand Dollar Thursday event over on Storify. Highlights include mountain biking kids, puppet buses and more kids playing it forward through the power of sport!