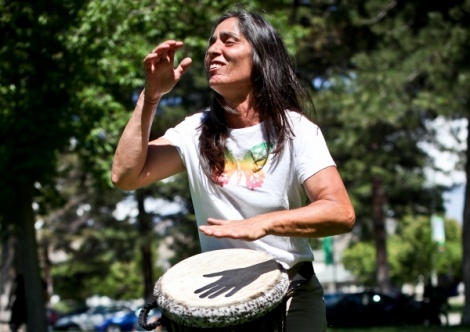 The winner of January's LA Awesome Grant is the Free to Be Me Drum Circle – the life's work of badass drummer and community organizer Sabina Sandoval:
it's a non-profit, all volunteer, charity group helping at risk kids, kids in grades K – 12, elders, people with special needs, and prison inmates by providing loving, educational drumming events. We go into convalescent hospitals where the residents can enjoy, and participate in, the music. We stimulate them by lifting their spirits and improving their motor skills.
Our 1K Awesome Grant will go toward much needed repairs on her over 400 (!!!) drums, which Sabina carts all around LA hosting her enormous, infectious drum circles that lure participants in to let loose, feel the beat, and find their own rhythm.
Sabina Sandoval is, indeed, awesome.
Another thing that's awesome – this grant pushes The Awesome Foundation over the $400,000 mark in grants given to awesome projects from over 60 chapters around the world!!!