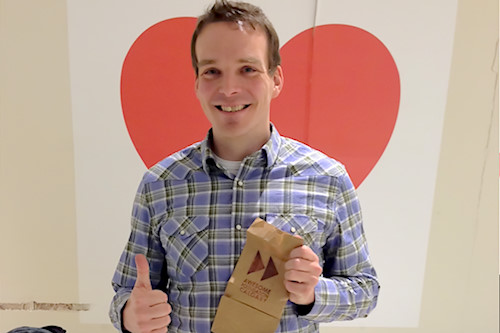 Awesome Foundation – Calgary's January 2013 $1,000 micro-grant went to Neil Egsgard with Kensington Interaction, a space built by Neil to showcase knowledge and to connect community in the Calgary neighbourhood of Sunnyside.
Based on the concepts of constructive communication and respect, Kensington Interaction is a public display space and message board where information from the neighbourhood and art from local artists can be found and seen by the thousands of Calgarians who live in the region and commute through it everyday due to its visibility in a high traffic area.
AF-Calgary's $1,000 will allow Neil to take his space to the next level by creating four new displays containing a wide variety of knowledge such as how to effectively choose food from various providers based on knowledge provided by local chefs and health/fitness professionals, presentation of Governor General award-winning research on conflict resolution in African refugee camps provided by a local scholar, and finally, showcasing local art and stories created by local artists.
You can check out video of Neil's 90 second pitch at our January 2013 Awesome Calgary Thousand Dollar Thursday event on Telly.com here.
If you're in the Calgary area, be on the look out in Kensington for the new displays coming soon, or visit the space now to see what is currently being showcased.
Another four great ideas were showcased at our January Awesome Calgary Thousand Dollar Thursday event. To relive the all the action, check out