It has been a busy couple of months for Awesome Mongolia!
First, Aldarmaa and I had an amazing time representing the Awesome Foundation by speaking at TEDx Ulaanbaatar about Awesome Mongolia, as well as another project we have been working on, the
Good Father Project
. You can catch the video
here
– and practice your Mongolian during the second half of the video, subtitles are forthcoming!
The idea was well received by the audience and we are currently working with a group from Ulaanbaatar, the capital city, to start our second chapter (and potentially third) of Awesome Mongolia! The deans of the new group are going to work with students at the health sciences university, and hope to fund some great public health projects. We can't wait to see what they come up with!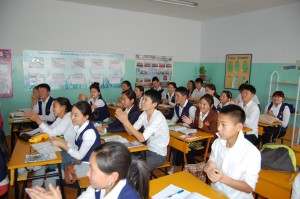 Finally, we awarded our second project for Awesome Sukhbaatar in late October. The winning proposal was submitted by an entire class of 11th grade students at one of our schools. They will be working with the local municipal library to recover books that are severely damaged. The students also plan on starting a competition based on reading books!