How would you describe a project that is part immersive theater, part designer kidnapping, and totally top secret? Awesome. That's how.
Wanderlust rendezvous: Oct. 6th, 7 pm sharp. Our agent will find you on the north end of the High Line, 30th St. & 10th Ave. Sturdy shoes/warm clothes/flashlight.
That brief and cryptic text message was all we received before everything went down. My partner-in-crime and I gather with 5 other couples on the top of the High Line on a brisk early October evening. At 7, our agent arrives dressed in dapper 70s vintage gear and holding an orange Igloo beverage jug. He introduces himself as Fox and asks us if we are there for the couples retreat. We say yes. A couple of confused tourists say "no" and scamper off. Fox leads us down the stairs of the High Line to street level, where we board a big hippie RV named Harvey Love Muscle.
Destination? Unknown. "We can't tell you, but it's about 2 hours from the City." Ok. Sure. Just go with the flow. That's part of the fun of it all.
After a brief stop for gas, there's nothing left to do but sit back, relax, chat with the other guests, and pass around a bottle of whiskey procured by Jonathan Harris, one of the other guests on the magical mystery expedition. My date and I had met Jonathan, the creator of the storytelling site Cowbird, the day before at the Future of Storytelling conference and were surprised to see him again at this secret gathering of brave and curious souls, who otherwise did not know each other. We would soon experience for ourselves the future of storytelling through our evening immersed in an eerily beautiful ruined resort.
Finally Harvey pulled up to a dark abandoned building covered in graffiti. We were told to take our final bathroom breaks and exit the vehicle. We see a dark sign for Penn Hills Resort. Somebody mentions that we are in the Poconos in Pennsylvania.
"Take your flashlights with you, but don't use them. They are only to be used in the case of an emergency. Each couple will be assigned a steward. Trust your steward. Stay close. Stay safe."
After a brief orientation in a lofty abandoned storage space full of old 70s and 80s sofas and chairs, we are led into what appears to be the main resort building. Candles on the ground and flashlights guide our eyes through the cave-like space. The place has been stripped. Wires and pipes hang from smashed walls and ceilings. We go up some stairs, through another hallway, and down again. The muffled sound of a band playing wafts through the chilly space. We stay close and work our way through the obstacles.
We arrive at a check in desk and are greeted by our stewards in tuxedos. Each couple "checks in" one by one. We have our photos taken and sit down at dusty tables facing a band playing by candlelight. A female vocalist with a smokey voice sings while accompanied by accordeon, upright bass, drums, and a muted trumpet. They sound a bit
"gypsy cabaret" and a bit like Beirut. Our steward introduces himself as Jorge. He offers us water, shows us a crumpled black and white headshot of "the next band." He allows us to enjoy the music for a little while longer, then he returns to escort us to our rooms.
Out through a back door. Across the street. Into a lobby where we are handed the keys to our suite, some old travel brochures, and an envelope with a condom and lube. Then back outside into the cold dark night. The sound of a grand piano playing softly. The gentle noise of a mountain stream. Pine trees, pine trees, and more trees. The crisp country air. The brightest light comes the stars above.
As we follow Jorge along the dark path, he tells us a little bit about the story of the resort's owners. "The old lady who started this place had a rule: 'Couples Only.' And let's just say they have an extreme sustainability policy: 'No electricity after dark.'" We reach our suite. Jorge goes on in ahead to light candles. We enter to find a room with a big round bed surrounded by mirrors. There is also a heart-shaped jacuzzi in the room and a sauna. There are also old papers and documents scattered around the suite. Jorge leaves us for some "couples time."
We close the door and pop open the champagne that Jorge left us. It's too cold and too weird to "get it on." We go into detective mode. The papers reveal the history of the resort as a couple's retreat for swingers. Everything looks a bit dated, like 70s and 80s. We pick up the phone and hear what sounds like a porno soundtrack and phone sex hotline. We later learn that the audio art was created by Audio Smut and based on documentary research on guests who stayed at the resort between the 50's and 70's.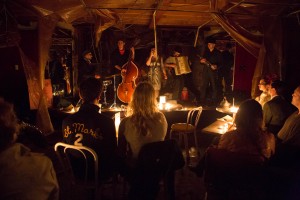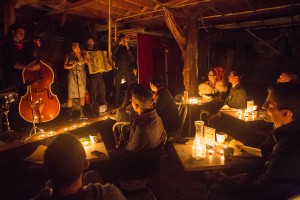 Photos by Tod Seelie
Forty-five minutes or so later, Jorge comes to pick us up. He leads us about out into the darkness, past more abandoned guest suites, across a rickety bridge, and to a bonfire. The same band from before, Amour Obscur, is playing. We rejoin the other guests and roast marshmallows and dance around the fire. We take turns checking out a nearby waterfall. The whole thing feels like a dream. Sublime. Awesome. A story to tell kids and grandkids.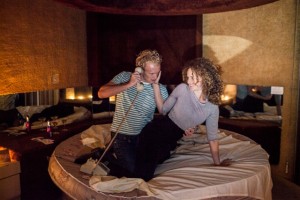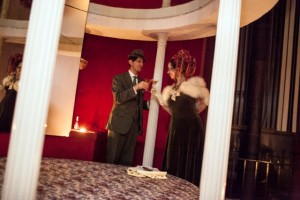 Photos by Ben Lowy
All of this was part of Project Wanderlust, the latest grantee of the Awesome Foundation NYC. Ida and Nathan, the masterminds behind the evening and our gracious hosts asked us to keep the details and documentation of their project secret until now to make sure there would be no obstacles to the execution of their plan. While the experience at the abandoned Penn Hills resort was a one-off event, the dynamic duo plan on organizing future events in similarly abandoned spaces in New York City and elsewhere. Sign up at WanderlustProjects.com to stay in the loop, and stay tuned here for next month's awesome project.