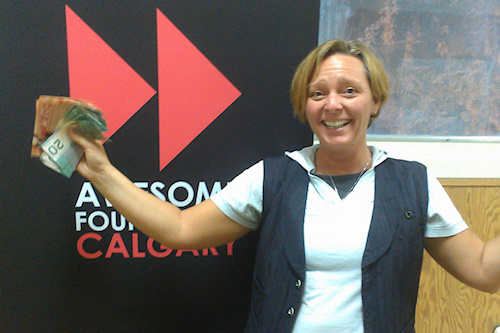 The winner of Awesome Foundation – Calgary's SUPER SPECIAL September $1,000 no-strings-attached micro-grant is Natalie Meisner with PODPLAYS: Downloadable Art for Your Ears.
Natalie is a playwright and poet from Nova Scotia and an Associate Professor of English Literature at Calgary's Mount Royal University where she teaches and researches creative writing, drama, Canadian literature and theories of comedy and laughter.
Created by Natalie and her students, these free PODPLAYS are downloadable audio plays designed specifically for your ears that anyone can access. Some are best listened to in a certain location or site, some ask you to be a spectator on the move and listen while you walk or run a certain route, and some ask you to simply download, plug in your earphones, and close your eyes.
PODPLAYS aims to bring awareness to unused or neglected spaces in the Calgary city core to the public. The project would also allow Natalie's students first-hand experience working with professional directors and actors as they develop the PODPLAYS for public consumption.
The entirety of the $1,000 micro-grant will go towards hiring actors and directors instead of being spent on props and other high cost items. Any leftover money will go towards promotion of the project.
Keep an eye on Natalie's website www.PODPLAYS.ca where you'll be able to access the free downloadable PODPLAYS and can learn more about the project and how you can participate.
September 2012 was a SUPER SPECIAL month here at AF-Calgary as we held our Awesome Calgary Thousand Dollar Thursday event on the last Saturday of the month (rather than the fourth Thursday of the month) to coincide with Alberta Culture Days and a whole whackload of other events happening in town (We Should Know Each Other #100 and Doors Open YYC Naked, just to name a couple).
To learn more about how this special event unfolded, check out our full recap on our blog and on