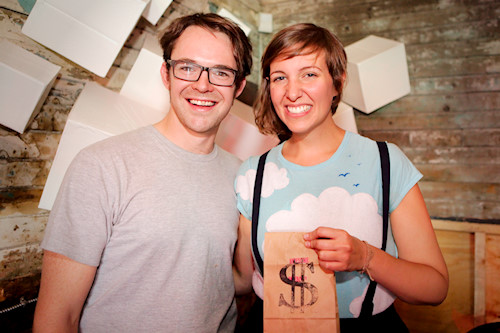 A project to create an 18-foot interactive electrical CLOUD created out of 5000+ incandescent light bulbs has won Awesome Foundation – Calgary's $1,000 grant for the month of August.
Entitled CLOUD, this interactive art project by Caitlind r.c. Brown will allow the public to wander beneath an installation representing a giant cloud created out of light bulbs through a rain of pull strings allowing them to switch on and off lights to create the illusion of lightning on the cloud's surface. Visiting CLOUD will be free, open to the public and kid friendly.
Scheduled to debut at Calgary's very first Nuit Blanche festival on September 15, 2012, the project is far short of their goal of collecting at least 5000 light bulbs, used or new, to use in the creation of the installation. To date, they've only collected around 300.
To help meet their goal, they desperately need the help of the public. As existing funding for the project may not be adequate enough to cover the light bulb shortfall, AF-Calgary's $1,000 will go towards a massive promotional campaign to build awareness of the project and to urge the public to donate any used or new incandescent light bulbs that they would be willing to part with. Funds would go towards purchasing ads in local newspapers and other avenues and channels that those not typically interested in the arts would frequent, as the arts community in Calgary is most likely already aware of the endeavor. Any unused money would go towards purchasing new light bulbs to help make up the short fall.
The hope is that by empowering members of the public who aren't aware of the project to donate their used light bulbs, CLOUD can "create an awareness of usage, a reminder of the potential of items post-function and explore the ability of art to re-imagine the possibilities of functionless domestic objects (in this case, burnt-out light bulbs)."
For any Calgarians wishing to donate their used (or new) incandescent light bulbs, a collection box has been set up in the front lobby of the Alberta College of Art and Design (1407 – 14 Avenue NW) where people can drop off their new or used incandescent light bulbs at any time. For companies, businesses or people with lots of light bulbs that they may wish to donate, they are encouraged to contact Caitlind directly where she will be happy to pick them up. To learn more about the types of bulbs Caitlind is looking for, see here.
You can learn more about CLOUD as well as follow the progress of Caitlind's project on her blog at incandescentcloud.wordpress.com. And if you're in Calgary on Saturday, September 15, 2012, make sure to check out Calgary's first ever Nuit Blanche at Olympic Plaza Park from 7 p.m. to 3 a.m.
Live Art Battles, comedy/improv and kids in Scottish kilts were among some of the competition that Caitlind had to face at this month's Awesome Calgary Thousand Dollar Thursday. For all the details, check out the recap on our blog.