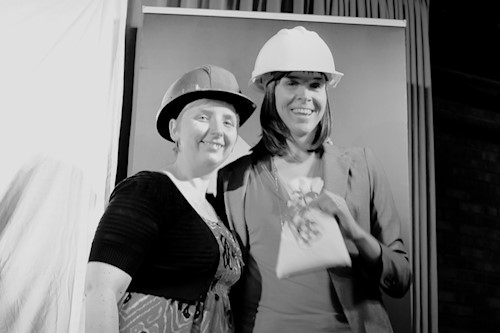 May 2012 marked the beginning of Year Two at Awesome Foundation – Calgary, and we're pleased to announce that the 14th grant in our chapter's history went to Kristin Holm and Courtney Hare with Tool Library.
Kristin and Courtney will use the $1,000 micro-grant to kickstart Calgary's very first tool lending library, giving Calgarians access to Do-It-Yourself tool kits and gardening tools that can be used by members of the public on various projects.  Rather than pestering friends and family for tools to borrow or renting tools that one may only use for eight minutes, one can simply borrow them for free from the Tool Library instead.
They felt that the Calgary community would benefit from having a Tool Library in the city in three ways:
1) Economically:  By reducing the costs associated with renting or purchasing tools.
2) Socially:  By creating opportunities for people to build things together and to grow and learn.
3) Environmentally:  By reducing waste consumption and environmental impact.
The $1,000 would go solely towards the purchase of tools to create the collection.  New tools, refurbished tools and donations would go towards the collection, and to start, three main tool kits would be created.
The Calgary Public Library has offered to catalog and house the collection at the Central branch of the library in downtown Calgary.  Kristin and Courtney hope to raise more funds in the future to grow the collection, and their long-term vision for the project is that the collection would be housed in a trailer that can move from branch to branch within the existing public library system (like a Bookmobile, except for tools) allowing Calgarians from all over the city access to the Tool Library.  Kristin and Courtney hope to have the Tool Library launched within the next six months.
Kristin and Courtney faced some tough competition in May.  For more details on how our Awesome Calgary Thousand Dollar Thursday event went, check out the recap on our blog.